MyFare App Re-Design - 2022
Capstone user-focused group project.
Tasked with finding a pain point in a product that affects user experience, my capstone project group and I modified the Calgary Transit MyFare app to improve the flow of the interface.
Collaborators:
Alia AllHammoud
,
Brad Liske
, Nicolas Lohmann, &
Chris Liu
Presentation Slide Deck
Our first step was to come up with a shortlist of problems we could research and provide a solution for. Ultimately, we went with the transit app redesign as we felt well connected with the demographic the product caters to, and would have many sources to access for data collection.


Next, we moved on to empathy-based research. We ran in-person interviews with the app's users and sent out a survey form to see what issues people had with the app.



Using the data collected, we began to define the problem. We developed a user persona that focused on the motivations and goals of the typical MyFare app users, and the steps and tasks involved in their daily commute.
We then moved on to the ideation phase which addressed some questions we found popping up frequently while defining the problem. We developed a user story map that addresses the common experiences of the app's user base.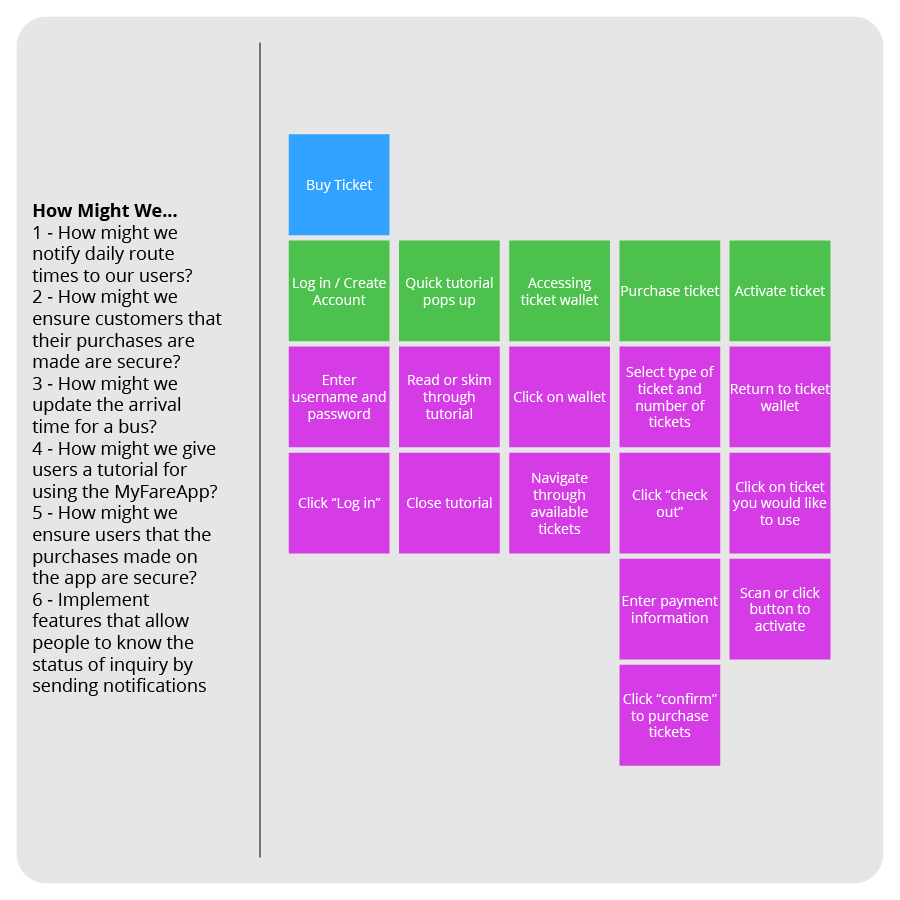 In our final stage of the project, we prototyped and developed low fidelity wireframe models, high fidelity project concepts, and then conducted usability testing on our models.

We stuck closely to the existing brand identity of the Calgary Transit System and focused our changes on allowing a user to access their account details without being redirected to an external browser window.